Sila for Hospitality
Revolutionising the Hospitality Industry with AI-Driven Consumer Intelligence
Take the power back with your marketing and access world-class AI technology to understand your guest better.
Experience the power of unparalleled consumer insights with Sila for Hospitality – a revolutionary platform specially crafted for the evolving needs of MENA's modern hospitality industry.
Our mission is to enable you to bridge the gap with your Arabic-speaking and English-speaking customers, providing the most accurate and in-depth understanding of their preferences, behaviours, and sentiments.
Make better business decisions with Sila's AI tools to give you more insight into your guest, and make your marketing budget work harder by driving more revenue.
"*" indicates required fields
About Sila for Hospitality
Sila for Hospitality uses specialised AI-driven intelligence to help you unlock profound insights into your target audience.
With our platform, you gain a powerful tool that can analyse vast amounts of data, discerning distinctive patterns and trends of your Arabic-speaking guests.
It even effectively analyses English language data to ensure a comprehensive view of your entire customer base.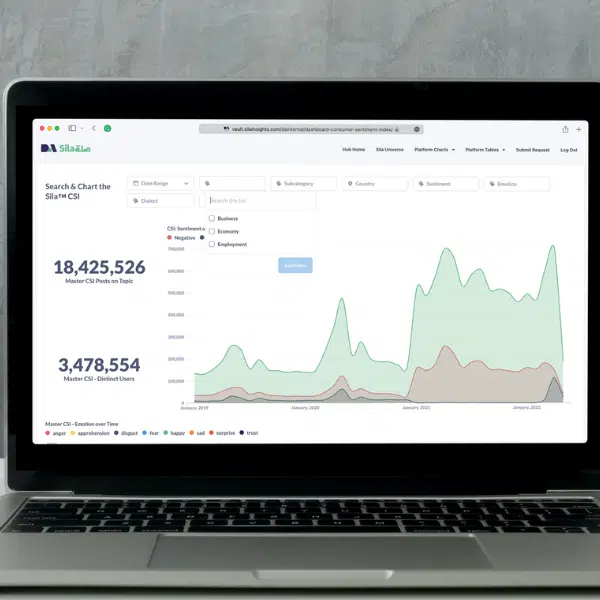 Discover Sila's Unique Features
Sila for Hospitality comes with a suite of unique features, each one meticulously designed to empower your hospitality business:
Hospitality Insights:Uncover deep understanding of your market, guest behavioural trends, and expectations.
Hospitality Competitor Analytics: Gain insights into your competitors' strong points and shortcomings.
Hospitality Marketing Optimiser: Improve your marketing effectiveness by making data-driven decisions (what's working, what's not).
Hospitality Reputation Guardian: Continuously monitor public sentiment and manage potential threats to your reputation.
Hospitality Success Monitor:Track and refine your marketing and reputation management strategies over time.
With Sila, you're not just reacting to the market – you're shaping it.
What Sila brings to the hospitality market.
Sila for Hospitality brings a variety of unique benefits to your hospitality business:
Unparalleled Consumer Insights: Understand your Arabic-speaking customers' needs and exceed their expectations.
Arabic AI Natural Language Processing enabling Cultural Sensitivity: Connect with your customers on a deeper level with our native Arabic-AI that can better understand Arabic and English..
Competitive Advantage: Distinguish your brand and outpace your competition with comprehensive data analysis.
Efficient and Effective Marketing: Maximize your return on investment and boost your campaign effectiveness with data-driven decisions.
Reputation Management: Proactively cultivate a positive image that attracts and retains customers.
Informed Strategic Planning: Continuously refine your strategies with ongoing feedback and data-driven insights.
Personalised Guest Experience: Enhance guest satisfaction and loyalty by catering to the unique tastes and preferences of your Arabic-speaking guests.
REQUEST DEMO
Packages for large and small enterprise.
Choose from our wide range of packages that best suit your needs:
Essential Sila Suite: Includes Sila Insights and Competitor Analytics, with optional add-on for Sila Trends module
Advanced Sila Suite: Provides all features from the Essential Suite plus Reputation Guardian and Experience Center, with optional add-on for Sila Marketing Optimiser.
Premium Sila Suite: Offers all the features from the Advanced Suite plus Sila Influencer Platform and an optional add-on for a premium support package.
Each package includes training to ensure smooth onboarding and implementation. Embrace the future of hospitality with Sila. Join us today!